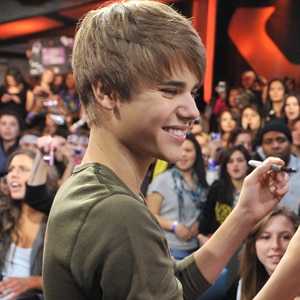 George Pimentel/WireImage.com
It's not every day you get slimed by
Johnny Depp
(or that you beat out your mentor for a major award of the night).
Such was the case, however, at the 24
th
Annual Kids' Choice Awards Saturday in Los Angeles, when the
Alice in Wonderland
star broke out a slime blaster while nabbing an orange blimp for Favorite Movie Actor (and
Justin Bieber
won the Favorite Male Singer award over his mentor
Usher
).
"You guys are the future," Depp said calmly to the crowd before he surprised them with a spray-down of the beloved green goop. "Take good care of us."
And there was much more sliming to come...
RELATED: Check out all the nominees for the Kids' Choice Awards!
Kids' Choice Awards host three-peater
Jack Black
kicked off the awards show by driving a monster truck over two limousines, followed by a rendition of the Black Eyed Peas "I Gotta Feeling" (the band later joined him for
their 50th awards show performance
"Dirty Bit").
While that performance didn't garner any of the green stuff,
Russell Brand
was next in line when he handed over the Favorite Animated Movie Voice award to
Eddie Murphy
for
Shrek Forever After
.
"I'm never having children!" Brand said as the kids pelted him with slime from the audience.
Then it was
Heidi Klum
, who was slimed in stilettos when she presented the blimp to
Selena Gomez
for Favorite Movie Actress (and no, Gomez didn't thank the Biebs).
So, who were the slime escapees (an apparent honor for the KCAs)?
While
Miley Cyrus
and
Jaden Smith
took home awards for Favorite Movie Actress (
Last Song
) and Favorite Movie (
The Karate Kid
) respectively, both dodged the proverbial green bullet, as did Jaden's sister Willow, who later hit the stage to whip some serious hair.
And while the KCA's are generally all about fun and games,
Justin Timberlake
brought a
slightly
more serious note to the evening when he accepted The Big Help Award for his work with the Shriners Hospital for Children.
"I want to dedicate this to all of you very cool, very loud kids," Timberlake said. "This is your world."
Check out the full list of winners:
MOVIES
• Favorite Movie:
The Karate Kid
• Favorite Animated Movie:
Despicable Me
• Favorite Voice from an Animated Movie:
Eddie Murphy
• Favorite Movie Actor:
Johnny Depp
• Favorite Movie Actress
: Miley Cyrus
• Favorite Butt Kicker:
Jackie Chan
, The Karate Kid
MUSIC
• Favorite Song:
"
Baby," Justin Bieber
• Favorite Music Group:
Black Eyed Peas
• Favorite Male Singer:
Justin Bieber
• Favorite Female Singer:
Katy Perry
TELEVISION
• Favorite TV Show:
iCarly
• Favorite Television Actress:
Selena Gomez
• Favorite Cartoon:
Spongebob Squarepants
• Favorite Television Actor:
Dylan Sprouse
THE BIG HELP AWARD
• Justin Timberlake
SPORTS
• Favorite Male Athlete:
Shaquille O'Neal
• Favorite Female Athlete:
Lindsey Vonn
OTHER CATEGORIES
• Favorite Video Game:
"Just Dance 2"
• Favorite Book:
Diary of a Wimpy Kid
series